Chicco Physio Comfort Silicone Pacifier (6-16 m) (Cat – Dog)
-30%
JD 8.00
More Products From This Vendor
Product Description
PhysioForma Comfort Silicone Pacifier
(6-16 Months) 2 Pack Maximum comfort for your baby!
PhysioForma Comfort pacifiers: a special series designed to offer maximum comfort. Orthodontic PhysioForma Comfort pacifiers, which support correct oral development, ensure correct positioning of the tongue with its extra ergonomic structure. The hollow and angled shape of the teat evenly distributes the pressure of the tongue and supports the correct development of the palate structure. Its ultra-thin and soft base allows baby's mouth to close properly. Your minks are now much more cheerful with their innovative cute patterns!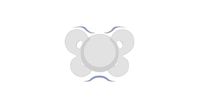 Extra ergonomic structure
It makes breathing and movement easier by leaving a large area in the nose and chin.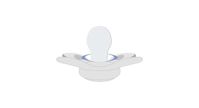 Large area at the base of the teat
The large area around the nipple also allows your baby to make natural lip movements while sucking.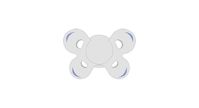 Sensitive support
The pacifier attaches to your baby's face with 4 small dots for maximum softness.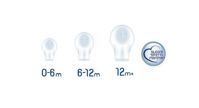 silicone nipple
Silicone, which is produced from transparent and hygienic materials, guarantees that it will not deform over time with its tasteless and odorless structure. Available in 3 different sizes; It offers accurate measurements for every stage of your baby's development with 0-6 months, 6-12 months and 12 months+ options.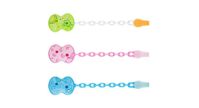 Accessories
Coordinated comforting pacifier chains, where moms and babies will unleash their imaginations with new combination possibilities!